OTT/IPTV


Next Generation SSD-Based Edge Streaming Server
ExaEdge™ by Toshiba is a next generation SSD-based edge streaming server with extra low power consumption. It allows you to stream large numbers of concurrent high quality video streaming sessions with low host CPU and memory resource utilization. To put it simply, a high end performance with a more green approach.
Products

Feature
World's first(1) Direct SSD-to-IP Embedded Hardware Technology
Flexibility to Operate as a Cache Server and/or Multiscreen Streaming Server
4 ports of 10GBASE-SR Interface
3.8 TB of Toshiba SSD
More than 36 Gbps of Actual Data Throughput
Redundancy at SSD Level with Proprietary RAID System
Compact-size 2RU Server
Up to 64,000 Simultaneous Sessions from 1 Box.
Upgradable Toshiba SSD Technology
Seamless Driver/Linux API Integration
Native Linux® Support
Save Space and Power Consumption
Competitive price with legacy server.
Starting with Storage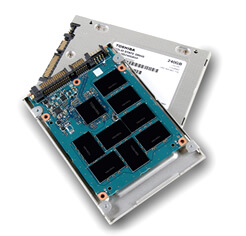 Toshiba is committed to enabling product breakthroughs with advanced, reliable electronic components and responsive customer care.
Cutting Edge Technology
ExaEdge™ adopts Toshiba's NPEngine™, the world's first direct SSD-to-IP embedded hardware technology.

ExaEdge™ ExaEdge offers direct storage access from SSD as an embedded hardware solution, in 2RU compact-size server. The resulting performance is capable of sending up to 64,000 simultaneous sessions with the total host CPU usage at less than 12%. This level allows the host CPU to perform other processes such as logging, monitoring, and repackaging wit greater efficiency.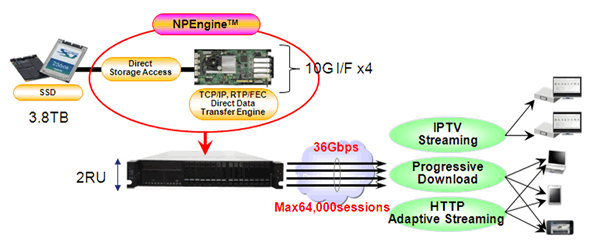 ExaEdge™ can boost performance leading to 70% and 77% saving in space and power consumption respectively. This technology is built seamlessly under a standard Linux environment, offering full flexibility for third party applications to run like any other Linux legacy server.
Cache Server vs Streaming Server
Modern video distribution over IP, like OTT streaming, leverage the existing HTTP-based caching functionalities. Unlike the traditional IPTV network which is basically adopting specialized network architectures, in adaptive bitrate scenarios HTTP chunks can be cached by traditional cache server at the edge to be then redistributed with lower latency.

ExaEdge™ is developed to function as both a caching and streaming server. Thanks to the full flexibility of our driver and API integration, you could adopt various third party streaming and/or caching software to benefit from our high speed SSD-to-IP engine. Whether you are a large scale CDN company requiring efficient caching, Telco/Cable company developing your own in-house CDN, or a small-scale video streaming service provider who needs an all-in-one box, you can leverage your existing network by choosing the best combination without having to stick to one proprietary system