Johnson Controls Inc. Takes Shipment of MV Drive Number 5,000 Manufactured by Toshiba International Corporation
HOUSTON, TX — Dec. 19, 2017 —
Longtime Toshiba customer Johnson Controls (JCI) has taken shipment of the 5,000th medium voltage adjustable speed drive (ASD) manufactured by Toshiba International Corporation (TIC) since production began in 2002. JCI is the single largest volume consumer of TIC MV drives as a result of a business-to-business relationship that has lasted for more than 10 years.
"We at TIC take pride in our history of developing innovative MV drive solutions for customers all over the world," said Mark Laber, vice president & general manager of the motors & drives division. "We look forward to continuing our legacy of innovation with the next-generation T300MV2®, T300BMV2™, and MTX2® medium voltage drives."
The 5,000th MV drive purchased was a
T300MVi® Series ASD
, one of many developed standard products that allow TIC to offer a reduced price, quicker delivery, continued reliability, and ease of doing business. Many of the TIC MV drives are used in applications such as chillers and building efficiency equipment where space is limited and the small footprint of the T300MVi is ideal.
The T300MVi MV drive is one of the best-ever selling Toshiba drives and predecessor to the new
T300MV2
, the most advanced drive in the industry. No other drive in the market features the latest multi-level Pulse Width Modulation (PWM) with Neutral-Point Clamping (NPC) technology. This advanced technology allows for a smaller footprint, a reduced component count, and ultimately, a lower cost. In addition, it incorporates the latest safety technology, making it one of the safest designs on the market.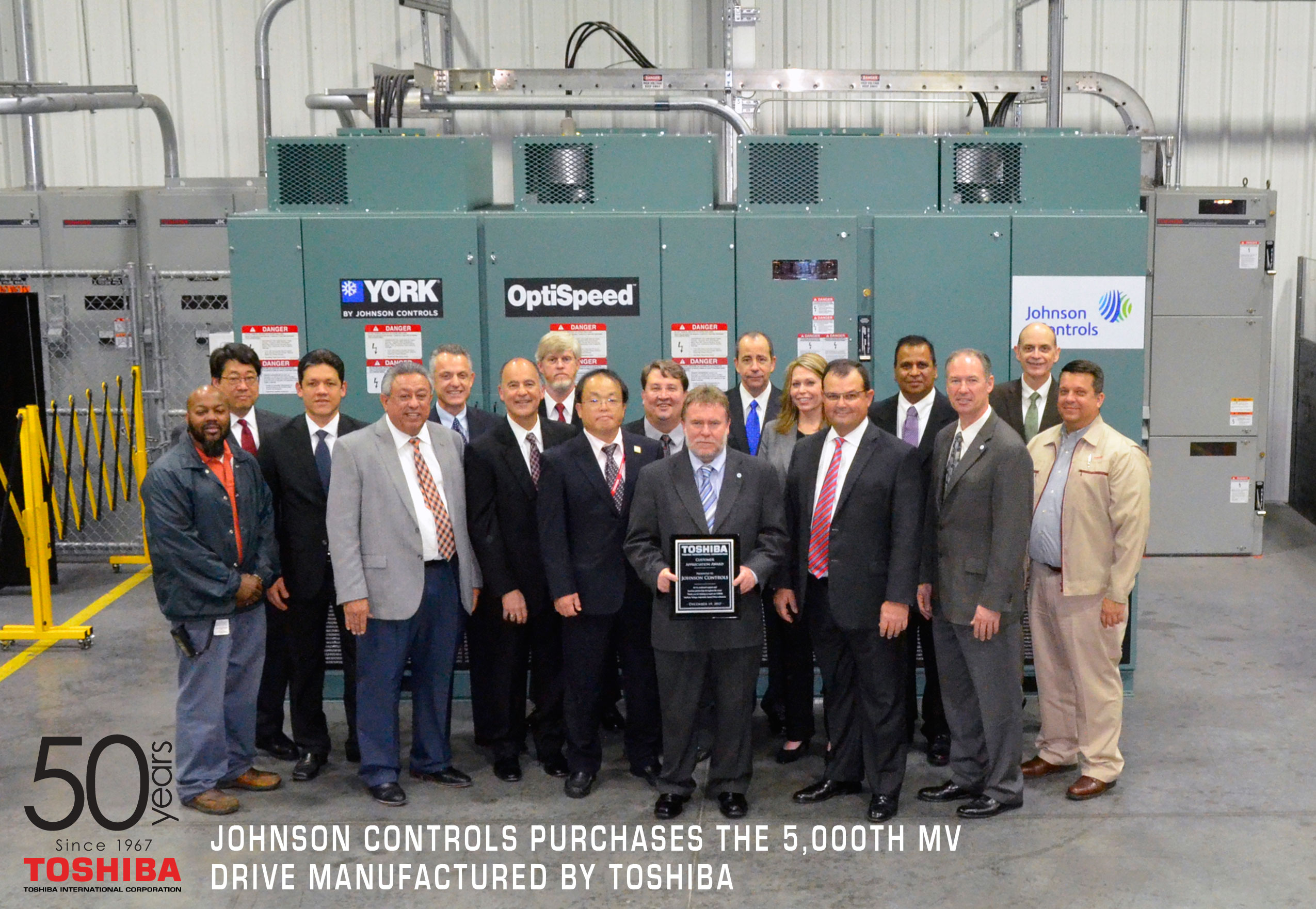 About Toshiba International Corporation
Toshiba International Corporation (TIC) is a Toshiba America Inc. (TAI) Group Company, a wholly owned subsidiary of Toshiba Corporation, and comprised of four divisions - Motors & Drives, Automotive, Power Electronics and Transmission & Distribution. Headquartered in Houston, Texas, TIC provides application solutions to a wide range of industries including general industrial, oil and gas, utilities, datacenters, renewables, HVAC, water/wastewater, and mining. For more information about TIC, please visit www.toshiba.com/tic.
About the TIC Motors & Drives Division
The TIC Motors & Drives division, which offers a full range of low and medium voltage motors, adjustable speed drives, motor controls, and power apparatus & components, is anchored by a totally integrated manufacturing process; research and development, design, engineering, production and manufacturing, and aftermarket service and support are all commandeered under one roof. With the capability to test products together as a system before sending out into the field, TIC ensures the highest level of quality, performance, and reliability.