Need a Quote? Have A Question?
Service Locator
Service Locator
Where to Buy
Where to Buy
Where to Buy
Reduce your operating costs and calculate the savings on your system
Click the App to Download and Install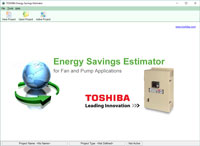 Toshiba Energy Savings Estimator
Toshiba's Plus Pack outdoor adjustable speed drive is revolutionizing the industry by combining Toshiba's robust Plus Pack technology and Toshiba's proprietary, ground-breaking Virtual Linear Pump (VLP) Technology®.
VLP Technology allows the Plus Pack to directly, precisely, and linearly control pressure, temperature, level, or flow using single or multiple devices while balancing the load between them. This innovative drive is designed to withstand even the harshest of conditions and is engineered to provide tight speed control, while offering the industry's most user-friendly operator interface.
Non Air-to-Air Heat Exchangers
The heat exchangers eliminate the maintenance issues associated with refrigerant-based cooling units while preventing air exchange between air outside and inside the cabinet.

Non-Ventilated Design

The Plus Pack design incorporates heat sinks out-the-back, heat exchangers, and gasketed doors which protrude from the back of the cabinet and are cooled by front-removable centrifugal fans.

Heat Exchanger Technology
This technology is utilized to remove residual internal cabinet heat instead of relying on refrigerant-based cooling systems and is an unparalleled solution used to increase a cabinet's heat dissipation while minimizing footprint.
Closed-Loop Air Cooling System
The air cooling system in the Plus Pack maintains a clean and sealed internal environment and ensures optimum performance and maximum life of electronic components, while protecting against external contaminants and humidity.



Product Image Gallery