The LC500 series controller is born out of the V-Series Integrated controller platform and repackages the functionality of the Model 1000 product into a 'DIN' size controller profile. The product is available as the LC511 (analog output type) and the LC512 (pulse output type). The product can support up to 8 PID process loops, 128 Analog input points and 32 discrete I/O. Up to an additional 7 loop displays units can be connected to the main unit to display individual loop status. These units are connected via a RS485 Multi-drop network. Additional I/O modules (up to 15) are added via the RS485 Process I/O Bus.
Multi-Loop Controller LC531/LC532
Multi-Loop Controller LC531/LC532 is an instrumentation panel controller, which supports various applications with user programs. Toshiba continuously enrich the features, reliability and user friendliness. Simultaneously securing the compatibility of attachment to limited space, panel cut and depth result to the advanced features.
Features
High speed operation and power saving
Processing speed is twice of conventional models.*1*2
Power conservation of about 60%.*1
*1 Compared to conventional model LC521
*2 In case the maximum registration composition is 8 PID tags
Network
Ethernet>
Construction of OIS-DS/SMART supervision and control system and OIS-DS supervision and control system through PLC server and communication between single loop controller.
RS485
Support EC Bus transmission and share connection with EC300 series.
PID control
Toshiba possess the 2-degree-of-freedom hyper PID control.
Advance control system carried out easily.
Engineering
Applications of new function block corresponding to the programming which abides the IEC 61131-3 standard.
Developments of efficient program contribute to reduction of development cost.
Size line up
There are 2 lines up available
There are 2 lines up available
Size 250mm:new compact type
Application Example
Boiler combustion control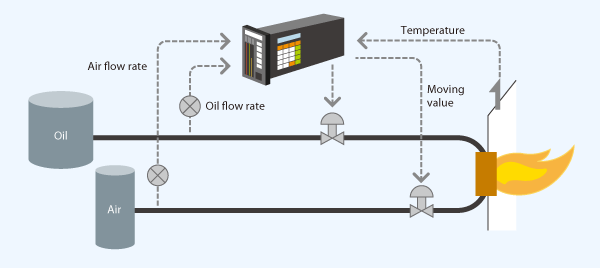 System configuration
Instrumentation Panel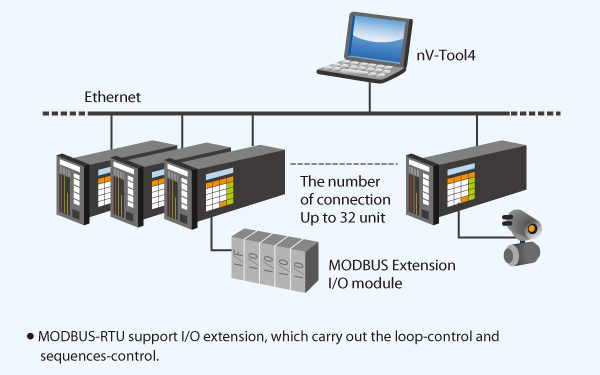 I/O extention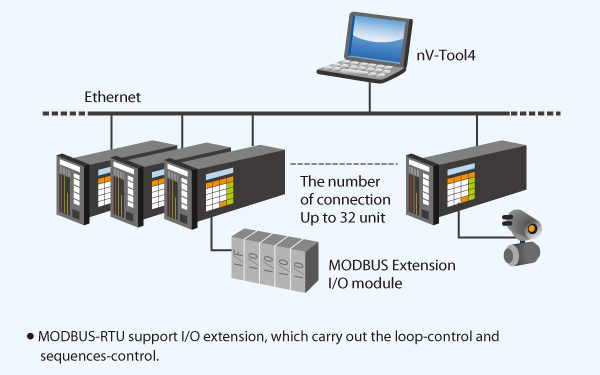 High speed processing with general PLC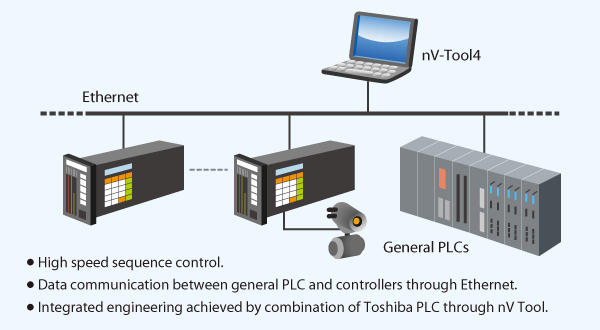 By using LC531/LC532, from conventional panel instrumentation to middle/large scale system, you can configure various appropriate systems for any purposes.
Functional specification
General Specification
Electrical conditions
Power supply
24Vdc +10%-15%(ripple of 1% or less)
Consumption power
Main unit power supply:24VDC-Approx. 0.2A
DI/O power supply:24VDC-50mA or less
Allowable instantaneous interruption time
1ms or less
Memory backup
Data retention:1year(Lithium battery)
temperature 25?
Online installation and removal
Online installation and removal of the LC53x(*3) main unit can be done
Installation/removal from the housing
Casing
External dimensions
LC53xE*S (*3)
72W×144H×250D(mm)
LC53xS*S (*3)
72W×144H×450D(mm)
Weight
LC53xE*S (*3)
Approx. kg
LC53xS*S (*3)
Approx. 3.5kg
Panel cutout dimensions
68W×138H(mm)square hole plate thickness 8mm or less
Panel material
Panel:ABS resin (UL94-V0)-Black
Case:Iron plate-Black paint
External line terminal block
Power supply, signal, RS485 transmission :M3.5 screw terminals
Ethernet:RJ45 connector
Draw-out operation of LC53x(*3) main unit
Fixed/draw-out operation is possible with 2-stage stopper mechanism
*3 LC53x represents LC531 and LC532.
I/O Specifications
Analog input(AI1 to 6)
Number of input points
6 points
Input range
1 to 5Vdc (Signal common terminalSC, terminal No.6)
Insulation unit
No insulation between channels
Input impedance
During energization:1MΩ or more
During power down:1MΩ or more
Resolution
16bit
Conversion data
12800 to 64000 counts/1-5Vdc
Operation output(MV1,2)
(LC531 only)
Number of output points
2 points
Output range
4 to 20mA (Power supply common 0V, terminal No.3, 26)
Insulation unit
No insulation between channels
Resolution
16bit
Conversion data
12800 to 64000 count/4 to 20mAdc
Load resistance range
0 to 600Ω
Analog output(AO1,2)
Number of output points
2 points
Output range
1 to 5Vdc (Signal common terminal SC, terminal No.6)
Insulation unit
No insulation between channels
Resolution
16bit
Conversion data
12800 to 64000 count
Digital input(DI1 to 3)
Number of output points
3 points
External signal
No voltage contact
(external 24V 5mA±20% at contact ON)
Digital output(DO1 to 5)
Number of output points
5 points
Output type
FET open-drain output
Maximum rating
30V-0.1A
WDT output
Number of output points
1 point
Output type
FET open-drain output
Output signal
Normally "ON"
In case of an error"OFF"
Maximum rating
30V-0.1A
Puls output(PO)
(LC532 only)
Number of output points
1 point (open, close)
Output form
Puls width output
Output type
FET open-drain output
Output signal
Low speed : 0.072×n-sec/control-period
High speed : 0.072×n-sec/control-period
Maximum rating
30V-0.1A
Environment Specification
Environment conditions
Operating ambient temperature
0 to 55?
Storage temperature
-40 to 70?
Relative humidity
10% to 95% Level RH2 (with no condensation)
Dust
0.3mg/m³ (no conductive dust)
Corrosive gas
No corrosive gas shall be present.
Vibration resistance
5?f<9Hz:Half amplitude of 3.5mm
9?f<150Hz:Constant acceleration of 9.8m/sec²
Impact resistance
147m/s²
Altitude
2000m or less
Grounding
Type-D grounding
Installation location
Inside an indoor control panel
Cooling
Natural cooling
Caution
Other company names and product names herein are trademarks or registered trademarks of the companies concerned.
Other company names and product names herein are trademarks or registered trademarks of the companies concerned.
The information contained herein is subject to change without notice.
The information contained herein is presented only as a guide for the applications of our products. No responsibility is assumed by TOSHIBA for any infringements of patents or other rights of the third parties which may result from its use. No license is granted by implication or otherwise under any patent or patent rights of TOSHIBA or others.
TOSHIBA products should not be embedded to the downstream products which are prohibited to be produced and sold, under any law, and regulations.
TOSHIBA does not take any responsibility for incidental damage (including loss of business profit, business interruption, loss of business information, and other pecuniary damage) arising out of the use or disability to use TOSHIBA products.
Please use the product properly after thoroughly reading and understanding the instruction manual.
Please use the product properly after thoroughly reading and understanding the instruction manual.
This product is under restriction of US Export Administration Act, and permission from US government is necessary for export depending on the exporting destination.
This product is not manufactured for systems that is directly related to human lives such as described below. If you need to use this product for such purpose, please contact our sales representative.
Example
The propulsion machinery control system of a nuclear power plant, safety protection system of a nuclear facility, and any other systems important to safety
Control system of collective transport system operation and air traffic control system
Control system of collective transport system operation and air traffic control system