Need a Quote? Have A Question?
Service Locator
Service Locator
Where to Buy
Where to Buy
Where to Buy
Reduce your operating costs and calculate the savings on your system
Click the App to Download and Install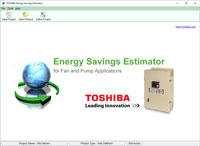 Toshiba Energy Savings Estimator
The AS1 adjustable speed drive builds on Toshiba's history of supplying powerful, reliable, and versatile drives. The modular construction of the AS1 allows the unit to be installed into nearly any application quickly and easily. The drive can operate with little or no programming. At the same time, the AS1 maintains one of the most expansive parameter sets in the industry. Its sealed cabinet design, new PID algorithm and motor-over-flux-braking technology make this drive adept to handle the most difficult applications. The AS1's advanced features and new technologies make it the new contender in the PWM control drive market.
AS1 Heavy Duty General Purpose
Product Image Gallery