Need a Quote? Have A Question?
Service Locator
Service Locator
Where to Buy
Where to Buy
Where to Buy
Reduce your operating costs and calculate the savings on your system
Click the App to Download and Install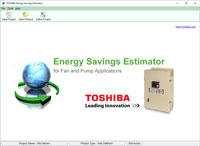 Toshiba Energy Savings Estimator
The nC1 adjustable speed drive is a sub-micro, or nano-sized, drive with a full range of features to meet the needs of nearly any user. The nC1 is designed to be a simple drop-in replacement for a starter on an existing project or as a new installation. It comes with either single-phase or three-phase input with input voltage as low as 120 V, making the nC1 an excellent choice for small OEM applications. Side-by-side mounting and the vertical construction of the unit allow for a smaller footprint in your cabinet. The nC1 provides better control of your application, more protection for your motor, and more room in your cabinet.
Product Image Gallery