Need a Quote? Have A Question?
Service Locator
Service Locator
Where to Buy
Where to Buy
Where to Buy
Reduce your operating costs and calculate the savings on your system
Click the App to Download and Install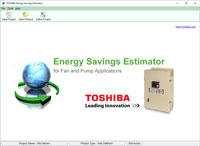 Toshiba Energy Savings Estimator
Toshiba's low voltage adjustable speed drives are some of the most advanced drives offered in the market. Designed with the end-user in mind, our drives feature many enhancements that maximize your system control and performance.
Industrial Applications
Available in standard, heavy, and severe duty ratings, our extensive product offerings can be customized to meet your specific needs and are suitable for use in oil and gas, mining, aggregate, agribusiness, and other countless industrial applications.
Benefits
Adjustable speed drives offer precise speed control to help maintain customer processes.

Reducing the speed on centrifugal fans and pumps can help the end user save exponential amounts of energy through the Affinity Laws.

Our sensorless vector control algorithm can maintain up to 0.1% speed accuracy while our close loop vector control algorithm can maintain up to 0.01% accuracy.