Motors & Drives Division

We offer a complete product lineup of low
and medium voltage electric motors and adjustable speed drives.

Power Electronics Division

Learn more about our uninterruptible power systems, rechargeable battery, and power conditioning.

Transmission & Distribution

TIC transformers, breakers, and smart grid solutions are backed by a history of innovation and reliability.

Upcoming Events

Society of Mining Engineers Expo
Phoenix, AZ
February 21 – 24, 2016

Event Site

Latest Videos

View our latest video on our Q9 Plus ASD for HVAC Applications

Careers

Learn more about our engineering, field service and other career opportunities.
Latest News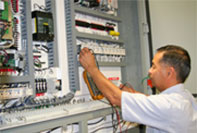 Global Product and Service Network
Learn more about Toshiba's Houston operations and global product and service network.