Flash Memory Server
Up to 30 Channel Inputs/40 Channel Outputs with 60 TB of Secure Storage
Server platforms scalable from 1 TB to 60 TB
Real-Time, Direct-to-Air Video Server Design
Accurate Video Presets on Schedule
No Load Variations in Processing Speeds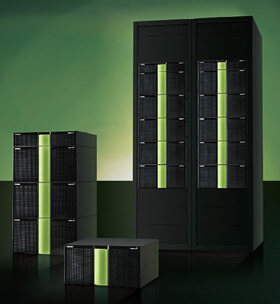 ---
PDF File [PDF File/3.2MB]
Outline
High Reliability

Flash Memory, IP Network, RAID
Solid-State and Maintenace-Free Recording Media
Latest 64 G Chip Sets
High-Speed 10/1 G LAN Interface
Rebuild Speed 3x Faster than HDD
Multi I/O, High Availability

High-Speed File Interface
New Effective Workflow
Up to 30 × 800 Mbps Ports Simultaneously
Even Play Out of File Base Transfers

Offering High I/O Capabilities
Concurrent Input/Output Operation
Simultaneous Real-Time Play, 40 ch Outputs
Open interface

For Control, ON-AIR MAX FLASH™ Exposes its API as a General Interface as well as Supporting VDCP.
Energy Efficient, Compact
Low Power Consumption, Reduced by 40% Compared to Previous Models
Low Heat Dissipation using SLC 64 G Chips
Great Flexibility

Scale Storage from 1 TB to 60 TB
Available Memory Boards: 0.25 TB, 0.5 TB or 1 TB

Supporting Latest Codec Formats: MPEG2 Long GOP/ ALL I and H.264 ALL I (AVC- Intra)
Supporting File Format: MXF OP1a

High Quality Up/Down Conversions with Low Latency, Closed Caption & AFD Support, and Audio Transparency.
Reliable Hardware
Based on Proven Results for Large Capacity and High Bandwidth Environments, ON-AIR MAX FLASH™ uses the latest 64 G Chip Set and High-Speed 10/1 G LAN Interface
Monitor Wear Leveling and Erase Rewrites
Prevent Common Secular Wearing
FEC (Forward Error Correction)
Redundant Power Supplies
Unlike the competition, Toshiba has developed a flash memory controller that monitors the wear leveling and erase rewrites to prevent the common secular wearing as seen in most "other" SSD applications.
Toshiba also employs FEC (Forward error correction) to prevent any data write lost. Redundant power supplies are also included benefits.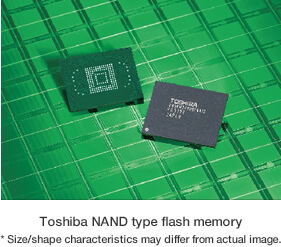 800 Mbps High Speed File Transfers
Toshiba's Original High-Speed Communication Platform, NPEngine™, offers High-Speed File Transfers
30 ports × 800 Mbps for MXF and Other File Transfers
Power- and Space-Saving
Power Consumption Reduced by 40% Compared to Pevious Models
64 G NAND Flash Chips Condensed onto Single Memory Boards
Low Power Design
Flexible Configuration
High flexibility
Three types of memory card sets are available to choose from: 0.25TB, 0.5TB, and 1TB
Hot swappable cards make it easy to expand I/O's and memory capacity. Add channels, formats and bandwidth as needed.
The system can be upgraded automatically by changing the configuration of the cards and software.
One Chassis Solution
Offering encoders, decoders, flash memory storage, controllers and system management, all in a single 5RU chassis. Minimizing chassis size, lowering power consumption, fewer internal cable connections, hot swappable, easy maintenance contribute to a greener footprint.
Free Slot Configuration
ON-AIR MAX FLASH™ has a free slot architecture. Up to any 16 cards can be installed into a single 5RU chassis. The card combination and slot location can be adjusted by user's request.
Multi-Channels High Performance Workflow
High-speed file transfer at 800Mbps that grows with ever needing requirements and change.
The ON-AIR MAX FLASH™ has 10 IP ports, each with 800Mbps of dedicated bandwidth for non- real - time fi le transfers. It also offers simultaneous I/O operation with 40ch of frame accurate real time baseband outputs ports.
Currently scaling at 60TB of flash memory storage.
ON-AIR MAX FLASH™ can adapt to customer's ever changing work flow, creating an architect that grows as requirements and needs grow.

Multi-Codec/Format/Converter
ON-AIR MAX FLASH™ supports 1080i, 720p, 480i and 576i format for ingest and play out. (NTSC/PAL)
Internal Multi Converter (M/C) allow users to specify separate formats for each individual output ports. Back- to-back playout is available for different compression formats and/or different picture resolutions.
Supported codec formats are: MPEG2 Long GOP/ ALL I and H.264 ALL I (AVC- Intra)
Encoders and decoders support both these formats.
Closed Caption conversion, EIA-608/EIA-708 support.
AFD support.
Standard protocol and open platform API
Open control interface
ON-AIR MAX FLASH™ offers an open API over IP, allowing various MAM applications and 3rd party controllers to neatly tie into the ON-AIR MAX FLASH™ for more intricate workflows. Standard VDCP is also accepted.

Application for ON-AIR MAX FLASH™
File management tool for ON-AIR MAX FLASH™
Play List/File Transfer/Delete command available from external PC
Traffice/Automation playlist compatible
Secondary event support
Based API (Application Program Interface)
Control via Ethernet LAN
API and VDCP compliant
SNMP and alarm log files.
As Run Log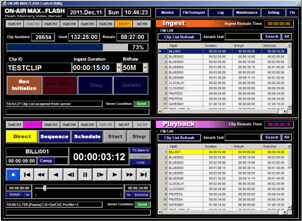 Specification
Technical specifications list
In/Output Signal Format
Video (NTSC/APL)
HD-SDI: SMPTE292M 1080i/59.94Hz, 1080i/50Hz, 720P/59.94Hz, 720P/50Hz
SD-SDI: SMPTE259M 480i/59.94Hz, 576i/50Hz
Up/Down Conversion / Cross Conversion with Closed Caption, AFD, VANC, Ancillary Data Support
Audio
Dolby Digital and Dolby E Passthrough
Discrete AES/EBU (SMPTE272M) : 16 inputs (8 pairs) on BNC (75Ω unbalanced)
Data
Closed Caption (EIA-608, EIA-708)
Ancillary Data (VANC, VBI)
File
MXF OP1a
Number of In/Output
Baseband Input
Min. 1 Channel/Max 30 Channels
Baseband Output
Min. 2 Channel/Max 40 Channels
Compression format
Video
MPEG2 LONG GOP / I-frame only, AVC-Intra
Support Bit Rate
HD: MPEG2 17.5 Mbps, 25 Mbps, 35 Mbps, 50 Mbps/AVC-Intra, 50 Mbps, 100 Mbps
SD: MPEG2 I-frame only 30 Mbps, 40 Mbps, 50 Mbps
AVC-Intra (H.264 I-frame only) User Selectable Bit Rate (HD :50/100 Mbps)
Audio
Non-compressed PCM 24 Bit at 48 KHz
Dolby Digital and Dolby E Passthrough
Storage
Storage Device
SLC 64 Gbit Flash Memory
Selectable Memory Board
3 type : 0.25/0.5/1 TB (By Request)
Storage (per 5RU chassis)
Maximum Storage Capacity in Standard 5RU: 8 TB (2 Memory Sets)
1 Memory Set is Consisting of 4 Memory Cards (5 Memory Cards are Necessary for RAID Option)
Minimum Storage Time
i.e. 30hours@65Mbps
Maximun storage time
i.e. 1000hours@65Mbps
Genlock
Analog BB(Black Burst)
BNC, 75Ω
Network interface
I Gbps Ethernet
FTP
File transfer speed: 30 Ports x 800 Mbps maximum
Ethernet for maintenance
HTTP / SNMP
Control protocol
API/Ethernet
RS-422/VDCP or Sony 9pin protocol
GPIO (8 GPIO lines configurable)
Chassis/Mechanical/Electrical specification list
Chassis
5RU
221(H) x 436(W) x 576(D) Free slot configuration
Power supply
Power supply
100-240V 50Hz/60Hz
Hot Swappable
Power consumption
depends on the configuration
Conditions
Temperature
5 to 35 ℃
Toshiba Broadcasting & Network Systems offer an array of broadcasting solutions backed by the reliability and performance of the Toshiba brand. Product features include:
High Speed
Energy efficiency
Space saving