Toshiba International Corporation Launches OIS42 Multicolor Touch Screen Operator Interface Station
Economical and Compact Controls Solution for Industrial Products
Toshiba International Corporation, HOUSTON, TX—March 3, 2014 —Toshiba International Corporation (TIC), one of Toshiba Corporation's fastest growing businesses in North America, today introduced the latest addition to its Operator Interface Station (OIS) lineup. The new OIS42 multicolor backlit 3" touch screen is ideal for compact installations where cost is a primary consideration.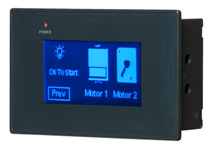 Red, green, blue, or any combination of the three display colors is possible, and screen colors can be determined by the status of the connected devices. The OIS42 PLUS features an RS485 port compatible with industrial devices. Built-in protocols allow for simple connection to Toshiba industrial products, including Toshiba's adjustable speed drive (ASD) protocol.
The new OIS42 PLUS also features a built-in ladder logic editor which shares a tag database with the screens for creating interlocks and permissives. Language selection capability is also available for description of cryptic trip and alarm codes from ASDs and other industrial devices. Attached I/O includes 8 DI, 8 DO, 2 AI, and 1 AO. Options include four configurable 100 kHz HS inputs and two configurable 100 kHz HS outputs.
Toshiba OIS products are renowned for reliability and versatility. The range of Toshiba OIS options are easily integrated into most common systems, while offering intuitive display options navigated by keypad or touch screen. Operators depend on Toshiba OIS products to monitor current system conditions via text- or graphics-based displays and initiate changes as necessary.
TIC has over 25 years of experience in programmable logic controllers (PLCs). Today Toshiba PLCs are at the core of Toshiba control systems. Toshiba PLCs offer comprehensive automation solutions highlighted by the V200 Series Micro PLCs, the V2000 Series Small PLCs and Operator Interface Stations. Applications range from simple sequence control to large process and automation systems. TIC also offers a series of Operator Interface Stations and Gateway protocol converters. For more information about Toshiba PLCs, please visit www.toshiba.com/tic.
About Toshiba International Corporation
Toshiba International Corporation (TIC) is a Toshiba America Inc. (TAI) Group Company, a wholly owned subsidiary of Toshiba Corporation, and comprised of four divisions - Motors & Drives, Automotive, Power Electronics and Transmission & Distribution. Headquartered in Houston, Texas, TIC provides application solutions to a wide range of industries including general industrial, oil and gas, utilities, datacenters, renewables, HVAC, water/wastewater, and mining. For more information about TIC, please visit www.toshiba.com/tic.