Manufacturing Capabilities
Toshiba International Corporation (TIC) is Toshiba's premiere manufacturing base in North America. Toshiba began as a manufacturer of heavy electrical equipment in Japan over 135 years ago. Today, Toshiba is known globally for its innovative technology, superior quality, and unmatched reliability.
TIC has been an integral part of Toshiba's global sales and operations for 55 years. Our one million square foot manufacturing facility in Houston, Texas has four manufacturing plants: industrial motor, hybrid motor, motor control and power electronics. Products manufactured in our Houston facility include: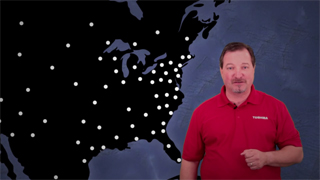 Toshiba International Corporation Video >
Three-phase AC Induction Motors
Adjustable Speed Drives
Solid State Starters
Uninterruptible Power Systems
Propulsion Systems for Transportation
Hybrid Electric Vehicle Motors
PV Inverters
Battery Energy Storage Systems
Global Manufacturing Network
TIC is part of an expansive global manufacturing network with operations in the United States, Japan, Vietnam, Brazil, and China.
Comprehensive In-House Services
TIC is proud to be a single-source solution for our customers. Our Houston facility has extensive knowledge and experience, offering the following in-house capabilities for many of our divisions:
Research & Development
Engineering
Manufacturing
Technical Sales
Product & Application Support
Customer Service
Project Management
Field Services & Preventive Maintenance
Product & Field Service Training