Quality, Environmental, Health and Safety Policy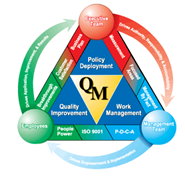 Toshiba International Corporation (TIC) is committed to complying with all customer and regulatory requirements, internal procedures and voluntary programs to which it subscribes. We, as an organization, strive for excellence in our quality, environmental, health and safety activities in order to meet and exceed the expectations of our customers, employees and community.
In order to uphold our commitment, we work as an integrated team to achieve and continually improve upon key objectives:
Quality - Offering the best products and services resulting in superior customer satisfaction.
Environment - Promoting and advancing our environmental efforts, including the reduction, reuse, recycling and conservation of natural resources, within all possible fiscal and technical capabilities, in activities such as but not limited to: construction, facility and process management, product design and external operations.
Health and Safety - Providing a safe working environment free of recognized hazards, promoting collaborative Health and Safety efforts by employees, reducing the risk of harm to employees, visitors, and properties and ensuring appropriate controls and contingencies exist to address unforeseen events.
Competency - Providing our employees with the necessary training and tools to successfully implement this policy and perform their work competently.
Corporate Social Responsibility - Ensuring that our actions positively affect, protect and sustain the communities where we work and live.
TIC senior management acknowledges and supports the organizational objectives outlined in this policy and deems that it is incumbent upon all TIC personnel, associates and contractors to assess their individual responsibility to fulfill the obligations of this Quality, Environmental, Health and Safety Policy.