Need a Quote? Have A Question?
Service Locator
Service Locator
Where to Buy
Where to Buy
Where to Buy
Reduce your operating costs and calculate the savings on your system
Click the App to Download and Install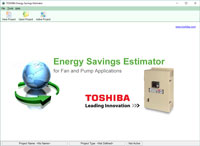 Toshiba Energy Savings Estimator
Toshiba's heavy duty S15 adjustable speed drive is a compact and high performance drive designed for controlling a wide range of variable and constant torque applications. This micro-drive is capable of working with permanent magnet (PM) motors, which allows for greater flexibility in selecting a motor for an application and optimizes energy savings. A robust design allows the S15 to operate in extreme temperatures and environments. In addition, the S15 features advanced technologies, and an expanded PID control allows a greater level of precise control and operation of difficult level control applications. No other micro-drive delivers such reliable and extreme performance with extensive capabilities at such a competitive cost.
The S15 is one of the most compact drives available on the market. This drive makes a fantastic choice if footprint or price is an issue for the end user as it still offers heavy duty ratings through a 150%/60s overload rating and up to 60C ambient temperature.
Product Image Gallery