Need a Quote? Have A Question?
Service Locator
Service Locator
Where to Buy
Where to Buy
Where to Buy
Reduce your operating costs and calculate the savings on your system
Click the App to Download and Install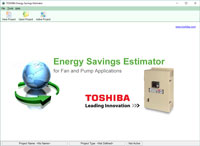 Toshiba Energy Savings Estimator
The W7 adjustable speed drive is an 18-pulse drive specifically designed for water and wastewater applications, and for any centrifugal application where harmonics are of concern. Enclosed in a small footprint, the W7 features a phase-shifting transformer that is integral to the enclosure. In addition, the W7 includes standard features such as vector control, RS485/RS232 ports and a wide selection of communication options, ground fault protection, and motor/drive overcurrent protection.

The advanced Electronic Operator Interface features a backlit graphical LCD screen, user-friendly menu-driven programming, and a built-in encoder for programming and speed control.
Product Image Gallery