Need a Quote? Have A Question?
Service Locator
Service Locator
Where to Buy
Where to Buy
Where to Buy
Most conventional sanitary magmeters are made from three or more pieces before it connects to your process piping. The more parts to a magnetic flow meter detector, the greater the chance for bacteria to hide and grow. Toshiba's Gap-Free™ sanitary magmeter is designed as a single body piece, eliminating the possibility of liquids solidifying in cracks or gaps in the unit. With the exception of electrodes from the input flow process connector to the outlet flow connector, there is only the Gap-Free™ detector body. The totally gap-free design eliminates gaps, cracks, crevices, flanges, screws, gaskets, matching body adapters, and any other part that would allow bacteria to collect. The unibody design not only prevents trapping of particles but also provides for fast and easy cleaning on both the inside and outside of the meter.

Toshiba's Gap-Free™ Magmeter is also available in a sanitary capacitance, electrode-less model for the ultimate in total-gap and crevice-free design.
Product Image Gallery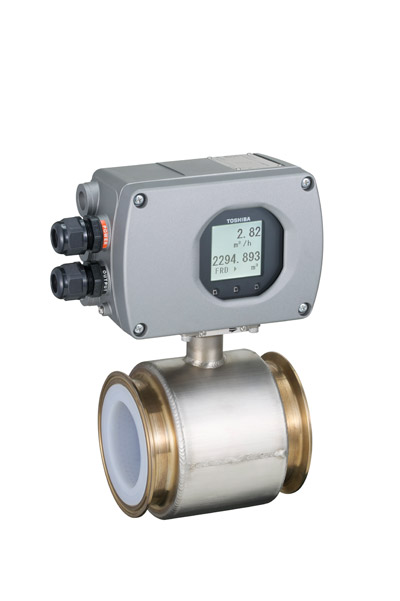 Product Image Gallery