Need a Quote? Have A Question?
Service Locator
Service Locator
Where to Buy
Where to Buy
Where to Buy
Gateway Modbus, Gateway CAN, Gateway Profibus
Gateways are protocol converters that allow any device with a modbus RTU protocol, Diesel CAN J1939 protocol or Profibus master to talk to Toshiba. In some cases Gateway allows the Toshiba PLC to communicate directly with other devices using the other device's native protocol. Gateway setup software is used to map the registers between the other devices/controllers to registers in the Toshiba PLC, ASD, or Loop Controllers. Using a simple spreadsheet format, Gateway can be configured to fetch a specified number registers or bits from one device and transfer them to the other device.
Key Features
Gateway CAN Allows Toshiba Controllers to Read Status of Diesel engines, RPM, Operating Temperature, Hours of Operation, etc.
Gateway Profibus Allows Toshiba PLCs, ASDs, and Loop Controllers to be Slaves on a Profibus DP Network
All Gateways are Setup Using the Same Configuration Software
Power and Transmit LEDs for Each Port to Show Operation Status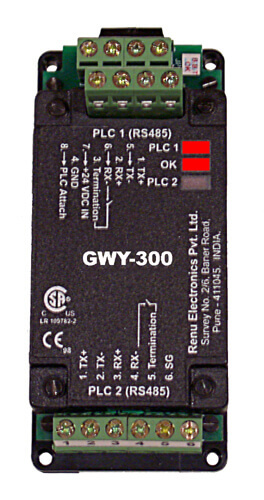 Product Image Gallery