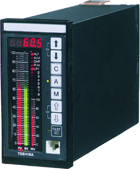 The LC500 is a series of box type controllers equipped with display functions, inputs and outputs, and a side keyboard for setting parameters.
The series is suited to general industrial and plant control systems, ranging from standalone to medium- and small-sized control systems.
Features
Display functions and inputs and outputs integrated
The controller functions based on the loop control module (L1) is integrated with the display functions and inputs and outputs into a box type one-loop controller.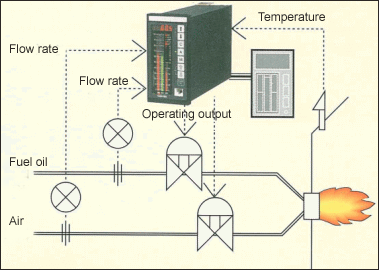 Expanded multi-loop controller functions
PID control of up to 8 loops is possible, and a display LD512H can be additionally installed for each loop. This evolution from one-loop control to multi-loop control offers easy adaptation to changes in the control range, and helps reduce total cost.
Up to 15 I/O modules can be installed apart from the controller. This means flexibility in system configuration.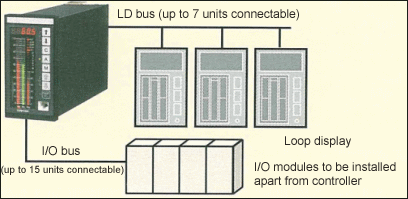 Side keyboard built in
A side keyboard is built inside the controller for display and setting of control parameters and for checking alarm information. A simple change or check of parameters can be done without taking a tool computer to the control site.
Compatible with Engineering Tool 2
Engineering Tool 2 of the Integrated Controller is used for engineering. It supports the total domain of engineering, ranging from programming to online monitor of program data, status surveillance, and event log functions. By dividing a program into function blocks, reuse of the functions is made possible, thereby improving engineering efficiency.
Network compatibility
The TOSLINE™-S20LP, Toshiba's control LAN/field network/device network, is provided as a standard feature (LC511, LC512). This permits connection to units of the Integrated Controller series or PROSEC T series to constitute a medium or small-sized control system.
Function Specifications List
Model
LC511/LC521
(Current output type)
LC512/LC522
(Pulse output type)
Input
Analog (1 to 5 VDC)
4 points
Digital (no-voltage contact)
3 points
R/A switch (no-voltage contact)
-
1 point
Power failure timer (no-voltage contact)
1 point
Output
Operating current (4 to 20 mA)
1 point
-
Operating pulse (pulse width)
-
1 point
Analog (1 to 5 VDC)
2 points
Digital (open collector)
3 points
Watchdog timer (open collector)
1 point
Maximum No. of loops
8 loops
Program capacity
6k steps
Scan cycle
50 to 5000 ms
Tag
Indicator
128 points
Regulator
8 points
Digital
32 points
Front Panel List

| | |
| --- | --- |
| Bargraph display | PV/SV/MV |
| Operating switch | SV, MV, control mode |
| Digital display | 5-segment LED display |
| Others | Engineering tool connector |
Side Keyboard List

| | |
| --- | --- |
| Data setting | Keyboard switches |
| Display | LCD (with backlight) |
| Function | Data display, parameter display and setting, alarm display |
I/O
I/O modules for installation apart from the controller are available in various types: loop, analog, digital, and pulse. (Up to 15 modules can be connected.)
Network
Two types of monitoring control network are provided for one loop controller: optical dual loop TOSLINE™-S20LP (for type LC511 and 512) and MC bus as that of conventional type (for type LC521 and 522).
TOSLINE™-S20LP Specifications List
Transmission topology
Optical duplex loop
No. of stations
64 maximum
Transmission rate
2 Mbps
Transmission distance
Station-to-station: 1 km maximum
Overall loop length: 30 km maximum
Transmission sequence
Scan transmission, Message transmission
Scan transmission capacity
4096 words
MC bus Specifications List

| | |
| --- | --- |
| Transmission topology | N to N |
| No. of stations | 32 maximum |
| Transmission rate | 1 Mbps |
| Transmission distance | Overall loop length: 30 m maximum |
| Transmission method | Bit serial transmission, Asynchronous |
TOSLINE is a registered trademark of Toshiba Corporation.
Other company names and product names printed in the manual are trademarks or registered trademarks of the companies concerned.
* The information given herein is subject to change without notice for design change or other reasons.
Product Image Gallery