The purpose of performance audit is to identify sources of major cycle losses. This is done by routinely measuring and calculating the unit efficiency and comparing it to a benchmark condition. The benchmark condition is ideally a trend over the life of the unit since commissioning. Performing these trends will help identify and prioritize plant maintenance based on estimated heat rate recovery.
Audit procedures are developed using the guidance of ASME performance test codes and adapted for the monitoring program goals. Toshiba's testing program uses data from station instruments to give repeatable results that are useful for trending and troubleshooting.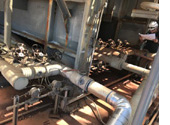 Toshiba leverages its deep engineering competencies and industry knowledge to evaluate turbine performance degradation and provide repair recommendations. Depending on the unit, the auditor may request basic information about the performance and maintenance history prior to arriving on-site. The performance audit schedule is typically 2-3 days on-site. This schedule allows the auditor to evaluate all steam cycle isolation valves for leaks as well as evaluate plant instrumentation. Toshiba will ask plant personnel to escort the auditor during valve and instrumentation checks.
The performance audit is most effective when performed at least 6 months prior to the outage start to accommodate lead time on ordering upgraded components or including repair scope into the maintenance plan. A 6-month performance audit interval is a proactive way to recognize cycle degradation and diagnose issues.

Customers have an option to perform both performance and steam path audits in conjunction with major outage activities. The combination of these services creates a powerful tool for planning and finding the largest returns in fuel savings for the maintenance dollar spent. Toshiba offers performance audits on Toshiba steam turbines and OOEM steam turbines.
The following are common areas of concern that are evaluated during a performance audit. The report is comprised of plant overall degradation, as-test heat balance diagram and repair recommendations. A preliminary report will be provided before the auditor leaves the plant.
Sources of Steam Cycle Degradation
Closed Valve Leakages
Turbine Section Degradation
Excessive Gland Leakage
Toshiba Products or Service Opportunities to Optimize or Improve Heat Rate
Insulation Breakdown/Sag