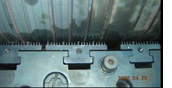 Toshiba offers both structural and efficiency steam path audits. These audits are tools that will aid in early detection of costly fixes and assist in prioritizing fixes based on the severity of structural issues or their impact on the unit's heat rate. These audits can only be done when the steam path is completely disassembled.
Toshiba audits are scheduled to begin early during the disassembly of the steam turbine and prior to components leaving site for repairs.

Our steam path audit will not add to the overall outage duration. Our auditors work side by side with the craft labor to accomplish all measurements in parallel with other outage activities. Efficiency steam path audits are typically performed prior to blast cleaning and non-destructive evaluation of the components. Structural steam path audits are ideally performed either before or after blast cleaning and all non-destructive evaluation (NDE) of the components is completed. This will allow the auditor to provide recommendations on structural flaws identified during the NDE inspections.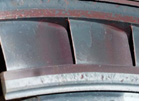 Toshiba leverages its deep engineering competencies and industry knowledge to evaluate and provide repair recommendations for findings not only on Toshiba steam turbines, but also from other manufacturers. Depending on the unit, the auditor may request basic information about the recommended unit clearances and unit configuration prior to arriving on-site. Please discuss with your account manager for applicability of the audit to your unit.