Need a Quote? Have A Question?
Service Locator
Service Locator
Where to Buy
Where to Buy
Where to Buy
Reduce your operating costs and calculate the savings on your system
Click the App to Download and Install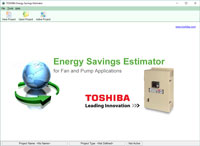 Toshiba Energy Savings Estimator
Toshiba's Plus Pack outdoor adjustable speed drive is revolutionizing the industry by combining Toshiba's robust Plus Pack technology and Toshiba's proprietary, ground-breaking Virtual Linear Pump (VLP) Technology.
VLP Technology allows the Plus Pack to directly, precisely, and linearly control pressure, temperature, level, or flow using single or multiple devices while balancing the load between them. This innovative drive is designed to withstand even the harshest of conditions and is engineered to provide tight speed control, while offering the industry's most user-friendly operator interface.
Key Features
Heavy duty outdoor duty NEMA 3R enclosure as standard
Up to 1500HP low voltage
Capable of 12 pulse or 18 pulse front end fantastic for harmonic mitigation solution
Patented 18-Pulse Autotransformer Technology
In order to reduce harmonic injection to the utility, the Plus Pack is available in 12-pulse and 18-pulse diode frontend designs. The 12-pulse drive can achieve a typical current Total Harmonic Distortion (THD) of 9% and must be used with a conventional drive-duty phase-shifting isolation transformer. The 18-pulse Plus Pack is furnished with built-in phase-shifting patented auto-transformer technology which eliminates the need for complicated cabling and allows for a perfect blend of reliability, cost savings, and a reduced footprint.
Advanced Design Features Enhance Reliability
The Plus Pack has a variety of features that make this unique drive an ideal solution for a wide variety of applications requiring unparalleled motor control and rugged reliability.
Non Air-to-Air Heat Exchangers
The heat exchangers eliminate the maintenance issues associated with refrigerant-based cooling units while preventing air exchange between air outside and inside the cabinet.
Non-Ventilated Design
The Plus Pack design incorporates heat sinks out-the-back, heat exchangers, and gasketed doors which protrude from the back of the cabinet and are cooled by front-removable centrifugal fans.
Heat Exchanger Technology
This technology is utilized to remove residual internal cabinet heat instead of relying on refrigerant-based cooling systems and is an unparalleled solution used to increase a cabinet's heat dissipation while minimizing footprint.
Closed-Loop Air Cooling System
The air cooling system in the Plus Pack maintains a clean and sealed internal environment and ensures optimum performance and maximum life of electronic components, while protecting against external contaminants and humidity.
Plus Pack VLP Technology Features
The VLP algorithm has helped to make PID obsolete and reinvents the way that users control pressure or flow. Once VLP points have been established, the Plus Pack will perform the following functions:
Monitor Multi-Pump Systems for Friction Losses, Impeller Variations, & Other System Variables
Adjust the System Accordingly to Ensure Only Necessary Pumps are Operating
Balance Flow Rates for Each Operating Pump Under All Conditions
Balance the Load for All Operating Pumps
Industrial Applications
The Plus Pack drive can be utilized in industries as diverse as; Chemical, City Municipality, Food, Industrial Marine, Irrigation, Paper, Petroleum, Power Plant, Oil & Gas, Mining & Mineral, and Water/Wastewater.
Applicable Applications
Blowers
Centrifugal Pumps
Conveyors
Crushers
Compressors
Centrifuges
Fans
Lift Stations
Water Towers

Product Image Gallery