Need a Quote? Have A Question?
Service Locator
Service Locator
Where to Buy
Where to Buy
Where to Buy
Unified Controller nv series: type2 light

Small-to-Middle Scale Distributed Control System (DCS)

For more than thirty five years DCS products of Toshiba have been engineered for process automation systems of power generation, water & wastewater, oil & gas, iron making, mining, chemical, paper & paper mill and cement.

System requirements for conventional DCS include high reliability, high availability, advanced control performance and high capacity. While a large scale DCS is able to manage a few thousands loops per controller, startup costs can add up due to the complex redundant architecture used to reduce the risk of centralized control and operation. Nowadays the global process automation market demands DCS products which are easier to introduce with improved cost performance in addition to the conventional DCS requirements.

One practical solution is to introduce a properly scaled DCS into each functional plant unit as needed. This reduces the risk of centralized control and operation at a reasonable cost. Toshiba developed the Unified Controller nv series type2 light small-to-middle scale DCS in 2015 to meet growing demand in the process automation market. The type2 light manages up to 1,000 tag objects including up to 128 control loops, while maintaining functions inherited from Toshiba's large scale DCS.

High Cost Performance DCS: type2 light

Reduces the numbers of processors and power consumption by half, compared to Toshiba's previous DCS, the V-series L2. Furthermore supports existing intelligent serial I/O and user application programs, so that cost effective migration to type2 light can be done.

Multivendor & High Speed Remote I/O: TC-net I/O

Consists of 100 Mps loop network without centralized hub, direct I/O and multivendor network I/O. Modbus, FL-net, Profibus-DP and HART devices can be connected.

C&I Engineer-Oriented Programming: nV-Tool

Supports not only IEC61131-3 standard but also user programming & online monitoring by using custom symbols of field sensors & devices, instrument balloons. 

Integrated HMI for Small-to-Middle Scale: OIS-DS/Smart

Holds the functions of OIS-DS and supports new DCS, type2 light, to supervise monitor & operation of up to 4096 tag objects in a small-to-middle scale system, using up to 8 displays.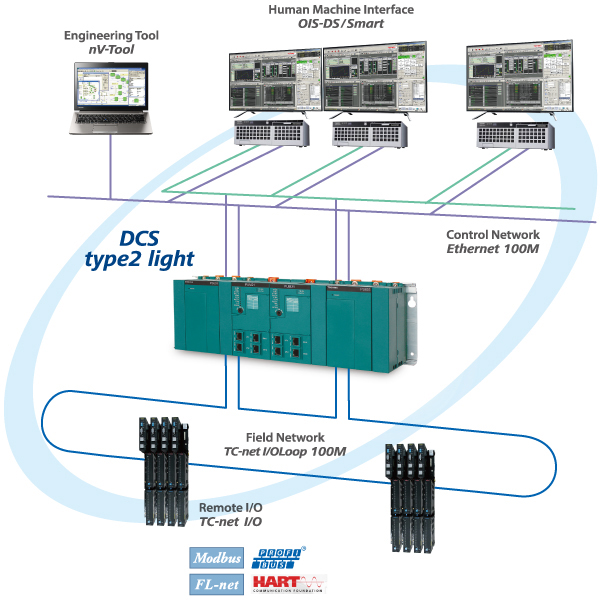 Product Image Gallery