Our Leaders
Meet members of the experienced team giving Toshiba America Energy Systems (TAES) the power to lead.
Ali Azad
President and Chief Executive Officer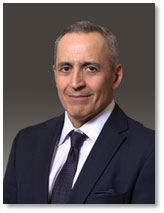 Mr. Azad joined Toshiba in March, 2015 and has overall responsibility for the establishment and operation of the company which commenced operations April 1, 2015.
Prior to joining Toshiba, Mr. Azad was President of BHI Energy where he directed the company's overall growth strategy, business development, mergers and acquisitions and joint ventures. Prior to BHI Energy, Mr. Azad was the Senior Vice President and Chief Development Officer at Babcock & Wilcox (B&W) where he successfully oversaw business development, mergers and acquisitions and strategic planning activities for the entire company. In addition, Azad served as CEO and president of Generation mPower, the small modular reactor subsidiary of B&W.
Starting his career at Duke Energy Nuclear Operations, Mr. Azad worked as a start-up and operations engineer at Catawba nuclear station, responsible for all primary system performance testing and start up activities. He later joined Duke Engineering and Services, where he was responsible for outage maintenance planning and execution activities at pressurized water reactor stations.
Mr. Azad holds a bachelor's degree in Mechanical Engineering from Georgia Institute of Technology in Atlanta, Georgia, and a Master of Business Administration from Wake Forest University in Winston-Salem, North Carolina. He currently serves on the advisory board of the George F. Woodruff School of Mechanical and Nuclear Engineering. Mr. Azad also serves on the board the Nuclear Energy Institute and chairs the Nuclear Energy Institute's supplier advisory board.
Sheila Lacks
Senior Vice President, Finance and Corporate Services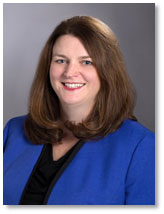 Ms. Lacks joined Toshiba in June, 2015 and is responsible for all aspects of Accounting, Finance, Supply Chain and Business Systems.
Prior to joining Toshiba, Ms. Lacks held multiple roles of increasing responsibility with Babcock & Wilcox, including her most recent position of Controller for Babcock & Wilcox's Nuclear Fuel Services Company. Her experience also includes serving as the Group Controller for Precision Castparts Revert Group, responsible for Accounting, Finance and Information Systems for all revert facilities across the globe including locations in the Americas, Asia and Europe.
Ms. Lacks holds a bachelor's degree in Accounting from Lynchburg College in Lynchburg, Virginia, as well as a Master of Business Administration from Virginia Tech in Blacksburg, Virginia. Ms. Lacks also holds an active Certified Public Accountant (CPA) license in Virginia.
Tom Cornell
Vice President, Sales & Business Development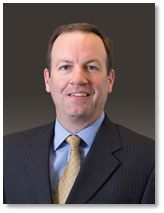 Mr. Cornell joined Toshiba in April, 2013 and is responsible for leading the business development direction of the company, managing the sales organization for the enterprise, and managing all new Steam Turbine Generator (STG) business in North America.
Prior to joining Toshiba, Mr. Cornell held progressively responsible management roles at Duke/Progress Energy, most recently as the General Manager for New Generation Projects, managing the project management and construction for Duke's combined cycle expansion program. In addition to his experience in business development, Mr. Cornell has a background in project management, engineering and construction, having worked in various roles at Entergy and Siemens/Westinghouse.
Mr. Cornell holds a bachelor's degree in Mechanical Engineering from Cornell University in Ithaca, New York, as well as a Masters in Engineering Management from Florida Institute of Technology in Melbourne, Florida.
Mr. Cornell has been an active member of the Program Planning Committee for Power Gen International since 2003, and currently serves on the Industry Trends/Competitive Power Subcommittee.