We are performing scheduled maintenance on our servers 03/02/2015. During this time some of our files will not be available for viewing or downloads. Thank you for your patience.
Generators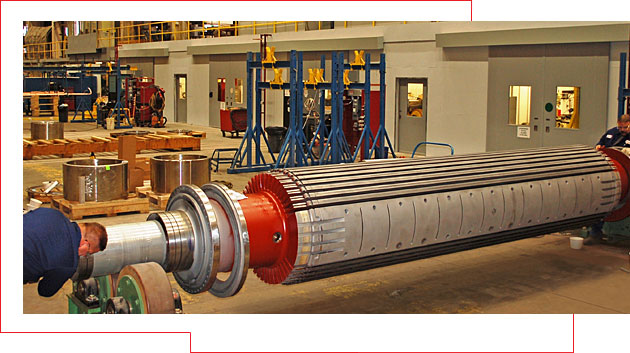 Generators - the Heart of the Power Plant
Whether it's a routine inspection or a major outage for a total rewind – on either a fleet unit or other-OEM – you can trust putting Toshiba's generator expertise to work for you. Through our project management, engineering, and scheduling professionals, as well as an experienced workforce, we ensure quality and value in rewinding, refurbishing, repairing, and testing large generator rotors and stators. Additionally, our Construction & Field Services organization is ready to bring the same level of experience to your plant.
Toshiba's large Milwaukee Service Center, with a 300-ton lifting capacity, four climate-controlled rewind bays, and a wide range of machining capabilities, makes it unique in the power generation service industry. In-house and on-site generator services include:
Rotor and stator rewinding
Stator core restacking (if needed as part of a rewind)
Inspection, diagnostics, testing, and other engineering services
Large inventory of retaining ring forgings
Design and manufacturing of parts
High-speed balancing
Field services
See our Retaining Ring Manufacturing page for more information about Toshiba's extensive inventory of retaining ring forgings.